About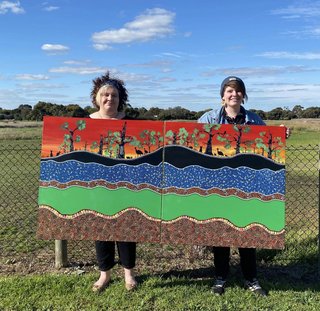 Wilay Designs is made up of Jazz and Kristal Matthews. They're Ngunawal Aboriginal artists and sisters currently living in South Australia.
Everything they create are original works of art inspired by their Ngunawal culture as shared by their family. Wilay Designs also draws inspiration by the gorgeous Ngarrindjeri land in which they live on.
The meaning of Ngunawal is "We the people, or us".
Ngunawal people lived in an area roughly bounded by the towns of Braidwood, Goulburn, Boorowaa, Harden, Gundagaii and Cooma. The ACT is included within this area.
The term Ngarrindjeri means "Belonging to men".
The Ngarrindjeri people are the traditional owners of the lower Murray River, western Fleurieu Peninsula, and the Coorong.
In 2019 Jazz and Kristal decided to start to share and sell their art. Blown away by the response, their art is loved and supported all over Australia and overseas.
Jazz and Kristal find it heartwarming to be able to share their culture and love for art with the world. To share family stories through art and just to be able to express themselves.
Wilay which means possum in their Ngunawal language is a fitting name as they started this journey in loving memory of their brother, LJ who passed away from Mitochondrial disease. LJ would often be called "my little possum" by his family. This is why a % of all art sales gets donated to the Mito Foundation. This foundation supports people affected by Mito, funds essential research and awareness about the disease.
All art is original and is protected under the Australian Copyright Act 1968.
Copyright © 2022